Sorry, there was a problem.
Twitter returned the following error message:
Sorry, that page does not exist
The 2016 Xel-Há Triathlon Welcomes Athletes to a Tropical Wonderland
A race for a great cause, the 8th Annual Xel-Há Triathlon welcomes athletes ages 9 and up to the Caribbean's most renowned ecological theme park, with all proceeds going toward local sea turtle & cultural conservation groups – November 19-20th.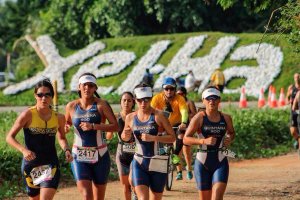 Tropical Adventure Awaits in the 2016 Xel-Há Triathlon
Where:
Xel-Há Park
Highway 307
Km 240
When:
6:30am, November 19th & 20th
When it comes to intense physical trials like a triathlon, where better to compete than in paradise? During the 8th Annual Xel-Há Triathlon in Riviera Maya, athletes are promised endless motivation from the seaside fresh air, glistening Caribbean, birds singing in the lush Yucatan jungle, and the countless bright blue cenotes that fill the park. Open to ages 9 and up, adult competitors are welcome to choose between Olympic (Swimming 1,500m, Cycling 40km, Running 10km) Sprint (750m, 20km, 5km), and Women Beginners (400m, 10km, 2.5km) formats.
"The Race for Conservation"
As the world's first tourist park to receive a Gold Certification from EarthCheck, triathlon registration fees go primarily to Xel-Há's Sea Turtle Conservation project. Since its inception, upwards of 7,000 nests have been protected, resulting in the release of over half a million newborn turtles into the Caribbean.
Stay & Play After the Competition
A wonderland of tropical fun for everyone, Xel-Há is a natural, eco-tour water park where the Caribbean meets the mainland in a network of underground rivers, caves, and crystal clear cenotes. In addition to breakfast and lunch buffets, as well as an open bar all day, there are 25+ exciting things to do onsite (many part of your all-inclusive admission, some at an additional fee), such as:
Zip Lines w/ Bikes
Cenote Swimming
Cliff Jumping
Rope Swings
River Tours
Snorkeling
Caving
Temaxcal Rituals ($)
Health Spa ($)
Snuba® Diving ($)
Sea Trek® Underwater Walks ($)
Adrenilina Speed Boat Ride ($)