Sorry, there was a problem.
Twitter returned the following error message:
Sorry, that page does not exist
Cenotes are a totally different world. From the outside, they may seem like a big hole of water, not a big deal, but at the moment you get inside and look down you will change your perspective.
The term is used by the low-land Yucatec Maya "ts-onot". Cenotes are geological forms with young post-Paleozoic limestones that have little soil development. Many of this are located in the Yucatan Peninsula. In ancient times, they were used for sacrificial offerings. These are the best cenotes I've found around the Riviera Maya:
Cenote Ik Kil: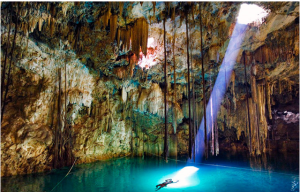 The main attraction of Ik Kil is the majestic cenote inside it. It is located just 3 km away from Chichen Itza, Yucatan. Since you get inside, you will see the park surrounded by exotic plants, trees and many bird species around the habitat. At night turns to be a really noisy place for the many bugs species and monkeys. The Cenote Ik Kil is surrounded by all of this, pure vegetation and nature. If you take a tour to Chichen Itza I recommend you to head to Cenote Ik Kil.
Sacred Cenote: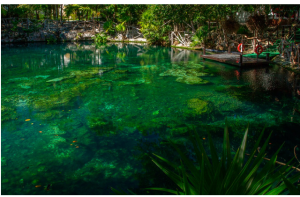 The Sacred Cenote (Cenote Sagrado) is located inside Chichen Itza, at the northernmost point of the archaeological site. Must archaeologists believe this is a reason why the Mayans built the city around this water hole. Unfortunately, you can not enter to this cenote, you can only look at it from a certain point. Maybe you will get disinterest on swimming on this cenote by knowing that Mayans did human sacrifices here.
Cenote Calavera:
The name calavera means "Skull", named this because there are three holes inside the cenote that appears to be holes in a skull. The water of this cenote is really clear that you can see it from the top. There are two ways to get to this cenote, by jumping from the top rock or going down the stairs. Don't forget your camera for those really cool pictures and videos you can take!
Grand Cenote: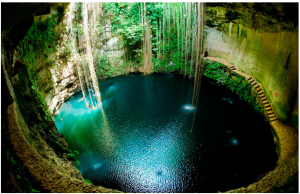 This is my favorite one. You can do almost any kind of water activity in this cenote and have a great experience! Snorkel, Swim, Scuba Diving, etc. If you want to experience a deep view you must try scuba diving in Grand Cenote. There are huge caverns of stalagmitas, stalactitites and columns in the deep. If your family would like to stay for a picnic you will find plenty of space and the perfect environment for some relaxing.
If you can't choose between any of this cenotes, Xenotes Tours includes a visit to four cenotes where you will enjoy a lot of activities!