The Marry Me in the Riviera Maya Contest: A Complete Success!
By Verónica Toro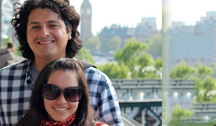 On November 30th the marriage of Luis Esteban Islas and Rosa Denisse Hernandez was held. They were the winners of Velas Resorts' second wedding contest, titled "Marry Me in the Riviera Maya". The couple joined their lives in love during traditional Mayan rituals, in the company of those most dear to them.

Romance and excitement were apparent in every corner of the setting. The expressions on the face of the bride and groom portrayed joy, love and fulfillment. Every moment of anxious anticipation culminated in smiles, dancing, fun and happiness both for the couple and each person present at this celebration.

We wish the newlyweds all the best in this new stage of life that they now begin together.

Thank you to everyone who followed the process and viewed the transmission of this live event.