The Mayan Shawl Treatment: A thousand year-old therapy
by Manuel Calderon de la Barca
In keeping with the rich local traditions of the region, Grand Velas Spa offers the Mayan Shawl Treatment: an ancient massage technique that utilizes blankets and shawls to achieve an important emotional connection, creating a rhythm in which relaxation and self healing activate the metabolism.
In traditional Mayan medicine, blankets and shawls are used to adjust the vertebral column and alleviate back pain. Medicine women use them to "adjust" and turn a baby in its mother's womb if it is not in the correct position at the time of birth; they are also used to close the shoulders and hips to alleviate the pain experienced by women weeks after giving birth or even years later. The blankets or shawls are tied strategically around the waist to help push the baby or around the arms and shoulders to align the spine by stretching.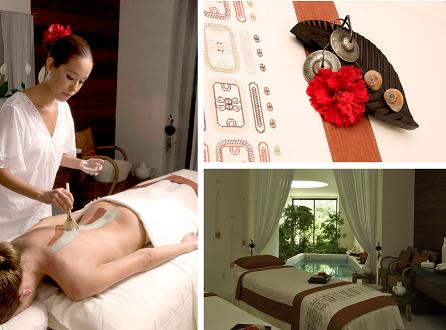 The treatments works outward from the vertebral column to "adjust", using shawls, movements and stretches from one side of the body to the other, thereby releasing tension and accumulated emotions; it results in relaxation and immediate relief. According to the wise Mayan culture, the treatment benefits the entire being- physically, chemically, emotionally and spiritually. It eliminates contractions, tensions, "knots" and sprains, as well as aligning the vertebra and correcting the posture.
Enjoy Grand Velas Riviera Maya and its Spa (one of the best in the world), and this thousand-year-old practice. In 80 minutes the Mayan Shawl Treatment will guide you through a magical ancestral experience, full of relaxation and spiritual peace.
From the Journey through Ancient Mexico, we also recommend:
The Mayan Yaxche Experience, a magical journey of almost one and a half hours. Beginning with a copal purification ritual, it is followed by a unique four-handed massage experience. Inspired by the ancient Mayan powers, you will experience healing choreography based on the power of the Jaguar and the wisdom of the Eagle.