The Mayan tradition continues
by Sara Gasparotto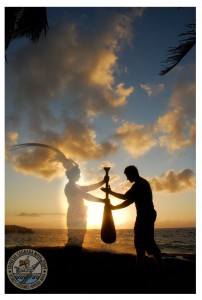 For approximately ten centuries, the ancient Mayas who inhabited the Mexican Caribbean made pilgrimages in honor of Ix Chel: goddess of the moon, the tides and fertility.
Beginning in about 500 A.D. the pilgrimages to their shrine on the island of Cuzamil (known today as Cozumel) arrived from the most remote cities of the Mayan world. Ports such as Xamanhá (today Playa del Carmen) and Polé (today Xcaret) served as places to embark across the deep waters of the Caribbean and worship Ix Chel. This continued until the middle of the 16th century, when the Spanish Crown prohibited the indigenous people from sailing and the veneration of their goddess disappeared.
Four years ago, the Eco-park Xcaret, in conjunction with the municipalities of Cozumel and Solidaridad, began the project la Travesía Sagrada Maya, or the Sacred Journey of the Maya, for the purpose of restoring this thousand-year-old tradition and recreating the ancient Mayan pilgrimage. To continue the tradition, 30 canoes head for Cozumel, covering over 28 kilometers (just one way) during 6 to 7 hours of continuous rowing in the open sea. The sea measures an estimated 420 meters in depth.
Today the fulfillment of the Sacred Journey of the Maya is possible thanks to the collaboration of hundreds of volunteers from the community who maneuver the canoes. They train for months in order to reach the physical condition necessary, in addition to teaching themselves the essential elements of guiding a small vessel through the open sea.
This event took place for the fourth time on the 20th, 21st and 22nd of May with the participation of 300 members who succeeded in reviving this Mayan tradition. Each year, without fail, it receives hundreds of willing participants.
If you would like to receive more information about this wonderful experience please visit http://www.xcaret.com/sitios/travesia_sagrada_maya/home.html, or look for "Travesía Sagrada Maya" on facebook and youtube.