Sorry, there was a problem.
Twitter returned the following error message:
Sorry, that page does not exist
The Pirate Show in Cancun
History
EL Galleon I, El Bucanero II and The Black Pearl are 18th Century authentic Spanish Galleon replicas. They started in Spain, the Galleons normally have a capacity for 285 passengers each.
It is called "Captain Hook". This Pirate Show began in the 21st Century, technology helped with the art sound & video system and air conditioned areas. Created a special indoor salon for a romantic dinning area of course, watching the beautiful view of the sea.
Cancun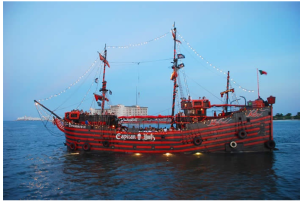 Captain Hook is the most famous boat in Cancun, offering a dinner show with a tour of the bay from Cancun. Wandering by the ocean you will experience a great experience through pirates, games, contests and dancing on an adventure to interact with all the boat; you will know the story of how one captain became the enemy of the other.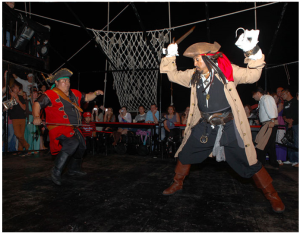 The sound of the cannons announce the departure of the ship. The journey begins when the Captain presents the crew and adventure travelers. They present a show with a lot of entertainment and fun.
At the middle of the journey in the middle of the ocean, you will see how a ship slowly starts to approach to Captain Hook until it touches it. The Pirates from Captain Hook take position and fights with the enemy! Cannons are ready and fired. All the pirates are armed until one ship wins!
Captain Hook includes also a dinner with three choices such as caribbean lobster tail, new york sirloin strip or surf & turf. You can also choose the option for a buffet and enjoy the variety of salads, BBQ chicken, vegetables, rice bread, dressing and dessert. For drinks you can get cocktails in the open bar, white or red wine. All of this while watching the fight presentation or many contests inside the ship.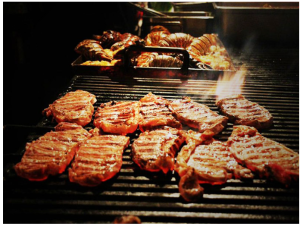 Departure Point
The place for departure is Embarcadero Puerto Juárez located in: Av. López Portillo SM-84 M-5 L-6, Puerto Juárez, Cancún.
Check prices and availability!