Sorry, there was a problem.
Twitter returned the following error message:
Sorry, that page does not exist
Tortugas Marinas en la Riviera Maya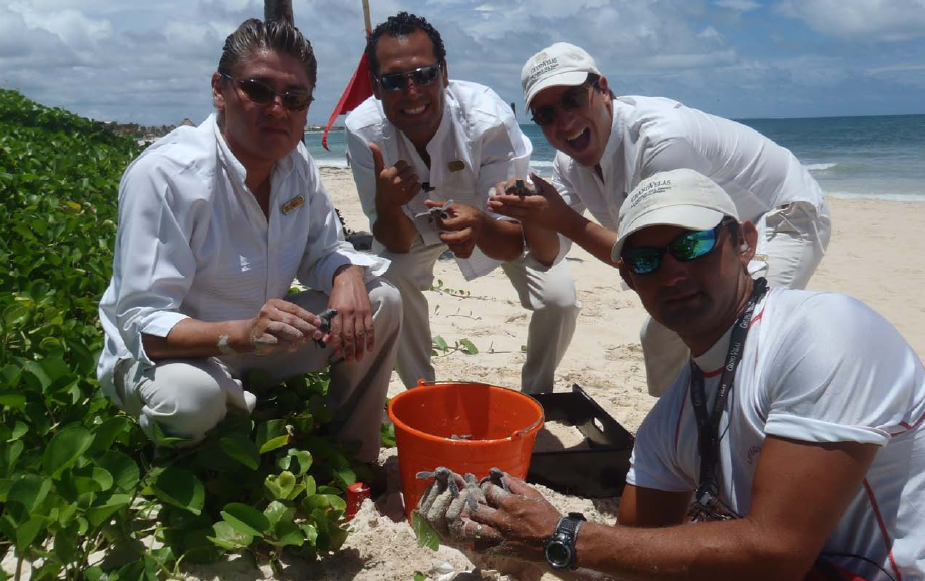 De acuerdo con el Programa de Conservación de Tortugas Marinas, realizamos actividades que incluyen operación rescate, rehabilitación y liberación. Cuidamos de estas criaturas desde el momento en el que llegan a poner sus nidos en la playa hasta el momento en que se liberan a las crías.

La liberación se hace con la participación de nuestros huéspedes y personal del hotel, con el propósito de concientizarlos sobre la importancia de esta increíble especie en peligro de extinción.

Los cursos son dados por agentes de seguridad que se enfocan en el seguimiento de normas en las playas durante la temporada; se realiza monitoreo y protección de huevecillos, localización de lugares de anidación, medición de tortugas, transferencia de huevos a plantas de incubación, liberación de crías, registro de datos y otras actividades para la conservación de la especie.

También hacemos algunas recomendaciones a nuestros huéspedes:

• No descuidar sus sillas en la playa.
• No dejar algún tipo de basura que pueda ser dañina o peligrosa.
• Si una tortuga aparece para anidar, hay que esperar a que lo hagan sin obstaculizar su camino.
• Evitar la manipulación o intento de recogerlas, pues les gusta sentirse protegidas y seguras mientras anidan y regresan al mar.
• El personal del hotel recogerá los huevos y cuidará de ellos en una guardería especial para el proceso de eclosión.
• No utilizar cámaras con flash ya que tienen los ojos muy sensibles.