Sorry, there was a problem.
Twitter returned the following error message:
Sorry, that page does not exist
¡Queda Sólo un Día para Ganar!
Ha sido una competencia muy reñida y llena de propuestas increíbles! Muchas gracias a todos los participantes.
Estamos a un día de cerrar las votaciones y dos participantes se han mantenido a la cabeza de la lista con siete votos de diferencia entre ellos.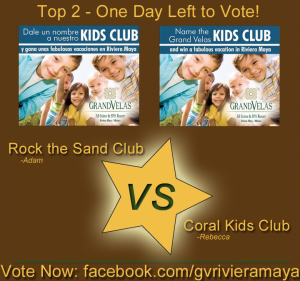 Rock the Sand Club – 633
Coral Kids Club – 626
Club Maya – 310
Sea Turtle Club – 139
Grande Isla Bonita Niños – 77
¡No es tarde para participar y seguir votando! El nombre que ocupa la quinta posición fue recibido apenas hace tres días y ya ha logrado entrar al Top 5 de este concurso. Si tu nombre está participando, no te desanimes, ya que "Grande Isla Bonita Niños" es la prueba de que sí se puede! Dile a tus amigos que den clic aquí para ser seguidores de la página en Facebook ¡Y te ayuden a ganar unas vacaciones sin igual!