Sorry, there was a problem.
Twitter returned the following error message:
Sorry, that page does not exist
Un río que comparte sus secretos
Río Secreto, ubicado en la Riviera Maya, cerca de las playas de Cancún, bien podría formar parte de las nuevas maravillas naturales del mundo. Su creación y formación de acuerdo a los especialistas, es milenaria, cuando uno se sumerge en las profundidades del río, puede maravillarse al contemplar parte importante de la historia de la humanidad. El asombroso espectáculo visual que proporcionan miles de estalactitas y estalagmitas, le otorgan un toque de misticismo incomparable a este enigmático lugar.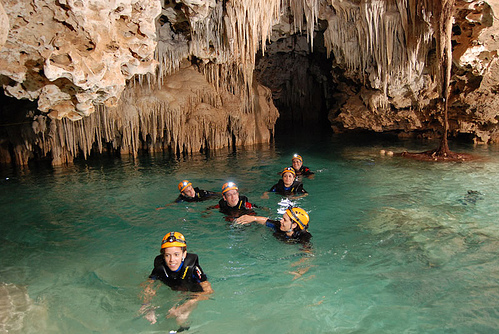 Sea testigo de millones de años de evolución a lo largo de los 600 metros que recorrerá nadando y caminando a través de sus bellísimas rutas, adentrándose en un mundo subterráneo de impresionantes formaciones donde experimentará sensaciones increíbles en el más absoluto de los silencios.
Esta fabulosa reserva que se encuentra cerca de Playa del Carmen es considerada además, una nueva esperanza en pro de la ecología en México y además, se encuentra en vías de ser declarado patrimonio natural de la humanidad.
A través de un viaje a las entrañas de la tierra, el visitante tendrá una experiencia que sin duda, cambiará su concepción de la vida y la historia.
Para más información, visita: www.riosecretomexico.com