Riviera Maya Underwater Sculptures Marry Art & Conservation
The world's largest underwater sculpture museum is like nothing you've ever seen, a breathtaking collection of ecological artwork designed to both stir the heart & mind, as well as forever evolve with the species of coral it encourages to grow.
The Sunken Splendor of Riviera Maya Underwater Sculptures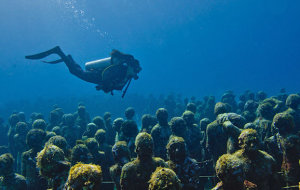 What:
Hidden off the coast of Cancún sits one of the world's most breathtaking museums. Also known as MUSA, the Museo Subacuático de Arte is an absolute must-see Riviera Maya attraction for art enthusiasts, nature lovers, scuba divers, snorkelers, and anyone craving an otherworldly adventure. In total, 500+ pieces sit sunken in the Caribbean, carved in porous concrete to counteract climate change by promoting coral growth along the Mesoamerican Reef. What this means is that as incredible as the sculptures are when first installed, they're only guaranteed to grow more magical as they come to life, forever changing with the species that call them home.
An Eerily Creative Marriage of Art & Conservation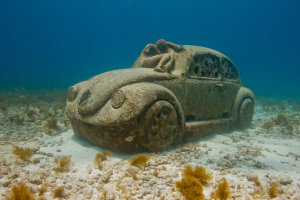 Largely conceived and executed by English artist, Jason deCaires, the underwater sculpture museum will one day feature as many as 1,400 sculptures across 10-12 galleries. Currently, the two most prominent sites include Nizuc and Manchones Reefs. Words aren't enough to describe the feeling of touring these mystical collections, silence of the sea filling your ears as swim among profound pieces like:
Bankers in suits, heads buried in the sand.
A scaled-down house.
Refugees on a raft.
Child sleeping on a VW Bug.
A ring of people holding hands.
Hundreds of Mexican villagers.
Statue covered in ears.
Man watching TV.
Workers at desks.
Scuba, Snorkel, & Glass-Bottom Boat Tours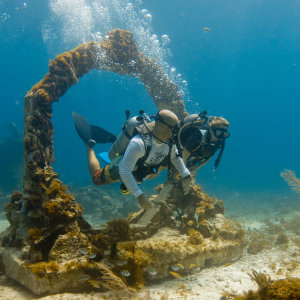 The sculptures sit at depths of 13-27 feet, meaning the best way to explore them is scuba diving. Cancún Scuba Center offers a great tour package, while snorkeling off a glass-bottom boat is an excellent option for those who are not certified.