Cancun is a city of unique fun activities. If you are looking for a great outdoor and adventure experiences you don't need to travel far from the city. Cancun surrounds offer an array of things to do to suit all ages, interests and levels of adventure.
A scuba dive experience, a scenic flight, skydiving, an ATV jungle adventure, skating or flyboard, it has it all. Cancun combines great location with good weather, offering the perfect environment for a variety of outdoor activities that is hard to beat.
How to choose fun things to do in Cancun
Depending on the type of adventure, there are many Cancun activities to choose. From very basic ones, with no skills required to extreme activities, that require training and some experience.
Here is our list of unique fun things to do in Cancun:
Run/Bike/Skate
This is a great way to enjoy a healthy and safe activity. Zona hotelera road is available all year round to practice any of this sports. Most runners and bikers come early in the mornings with their teammates. There are many races during the year, such as the famous Cancun Marathon each december, Xplor bravest race to run with many adventurous obstacles and others like the Running Dead Race to escape from zombies.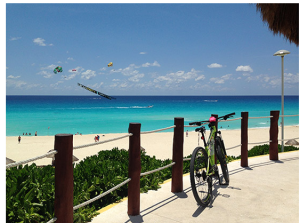 Scuba Dive Experience- Wreck 2TK Dive
If you love the ocean for adventure, then the Wreck 2TK Diving Experience should be on your bucket list. This is a one multilevel dive with a max deep of 80 ft deep in a US Navy Minesweepers used on the 2nd World War. Wreck 2TK Dive is specially prepared to explore safely and the second dive is to explore the beautiful coral reef with the sea life.
Inclusions:
⦁ Two of the best dives of your life
⦁ Scuba diving equipment
⦁ Bottled water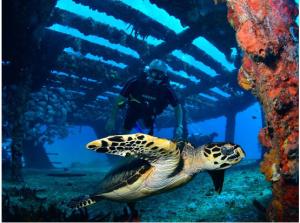 Off Road and Flight Challenge
If you are a fan of adrenaline, this is one of the fastest zipline circuits ever built. You will feel what is to fly over the Yucatan Jungle and walk over the first sky bridge. There are many aerial activities and some other in the ground when you drive the army truck deep to the jungle to experience the top-of-the-line Polaris Ranger RZR. Then the water activities are the last part of the game, this is when you relax and refresh in the deep cenotes of the jungle!
Inclusions:
⦁ Transportation
⦁ 8 Zipline Circuit
⦁ Skywalk (aerial bridges)
⦁ Parachute Jump
⦁ Polaris RZR buggy
⦁ Off Road Training Circuit
⦁ Cenote Swim
⦁ Lunch and non-alcoholic beverages
⦁ Bottle of water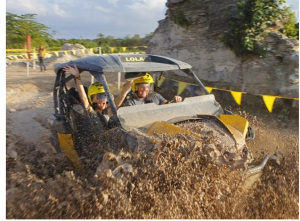 Skydive in Playa del Carmen- Tandem Jump
Experience the Tandem Jump, one of the most popular skydiving programs. It's about a 10,000  feet in a plane to exit a 40 seconds free fall over the ocean, then with your jumpmaster, you will have a ride in a canopy.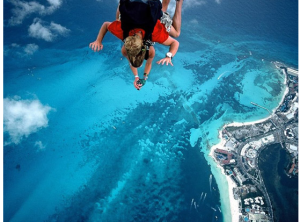 Ventura Park- Cancun's New Ocean Theme Park
This is not just an ordinary theme park. There is many entertainment for people of all ages. Ventura Park has many worlds inside with different kind of entertainment: Dolphinaris, Underworld, Grand Prix, Fun world, Aaah Ventura! and Wet n' Wild.
Inclusions: Five unlimited worlds with unlimited food and drinks.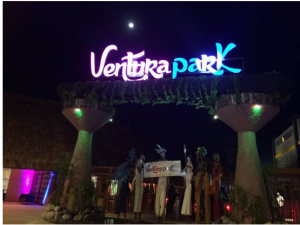 Xplor Fuego- A challenge in the dark
If you are a fan of nature, follow the path to adventure! Xplor Fuego becomes an unparalleled adventure when the sun sets and the jungle comes alive. You will feel the thrill on the highest Ziplines in the Riviera Maya, exploring the jungle in an Amphibious Vehicle and the underground rivers to swim on a lava stream.
Inclusions:
⦁ Underground caves to paddle on a Raft.
⦁ Zip Line circuits.
⦁ Amphibious Vehicles.
⦁ Stalactite River Swim.
⦁ Unlimited energetic buffet.
⦁ Unlimited beverages.
⦁ Resting areas, dressing rooms and bathrooms.
⦁ Equipment (Zip-Lines: helmet and harness, Rafts: helmet and paddles, Stalactite River Swim: helmet and life jacket, Amphibious Vehicles: helmet and vehicle for two).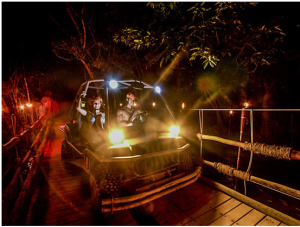 If you have any questions or doubts about any of this tours, you can contact us or visit Discovery Mundo to find special packages for your vacation.