Romantic Things to Do in Riviera Maya this Valentine's Day
All you need to do is breathe the air in Riviera Maya to feel the romance this Valentine's Day. But if you happen to crave more, possible outings include dinner in an elegant cave, a day at the beach by Tulum's Mayan ruins, & a soothing cenote swim.
Share the Most Romantic Things to Do in Riviera Maya
Let's be honest – just being in the Mexican Caribbean with the one you love is sure to make this Valentine's Day the best of your life. That's because here in Riviera Maya, romance is literally in the air. You really don't need to do anything but be together. In your all-inclusive suite, at the beach, or off on an adventure, it's impossible not to fall deeper in love with your special someone when there's so much to love all around.
Sunrise on La Quinta, Dinner in a Cave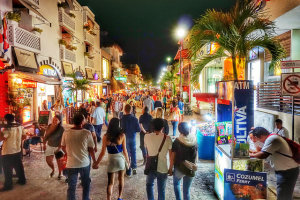 For some, the appeal of Valentine's Day is doing as little as possible. Thankfully, you won't have to venture far to take in the Caribbean sun, hand-in-hand between white sands and the hip strip of Playa del Carmen's Quinta Avenida. When it's time for dinner and/or cocktails, venture to the magically cavernous stalactite wonderland of Alux Restaurant (Av. Juarez Mz. Lot. 2, Col. Ejidal btwn Diagonal 65 & 70).
The Ancient Mayan Magic of Tulum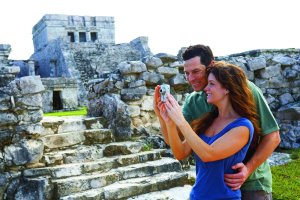 One of the world's most gorgeous beaches, ancient ruins, and a day being pampered over margaritas and fine food at El Paraiso Beach Club, just a kilometer from the city's famous historic sights – what else is there to say?
Savor the Secrets of Sian Ka'an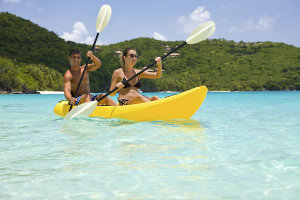 A UNESCO World Heritage Site, Sian Ka'an Biosphere Reserve is 1.6 million acres of protected wildlife comprised of tropical wetlands, wild jungle, winding rivers, mangroves, secluded beaches, and vibrant coral reef. Needless to say, it's a nature lover's dream. Sustainably focused in-depth cultural experiences and recreational treks are available through Community Tours Sian Ka'an.
Soak in a Tranquil Cenote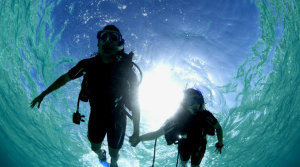 No romantic getaway to the Yucatan is complete without swimming in a mystical cenote. These deep blue pools are said to have restorative properties, connected by an intricate network of underground rivers like no place else in the world. Two of the best in the area include Tulum's Dos Ojos (Cenote Jaguar Rd) and Cenote Chikin-Ha (Highway 307, Km. 265 000).