We Move Forward 2013
We Move Forward 2013 is a conference for women who value living life with passion and purpose. Daily speakers motivate, and group workshops and mindful movement sessions will have you harnessing inspiration and shifting it into meaningful action. Whatever your stage of life, We Move Forward will have you sliding over into the driver's seat, both hands on the wheel, accelerating forward with meaning and excitement in a direction that serves you.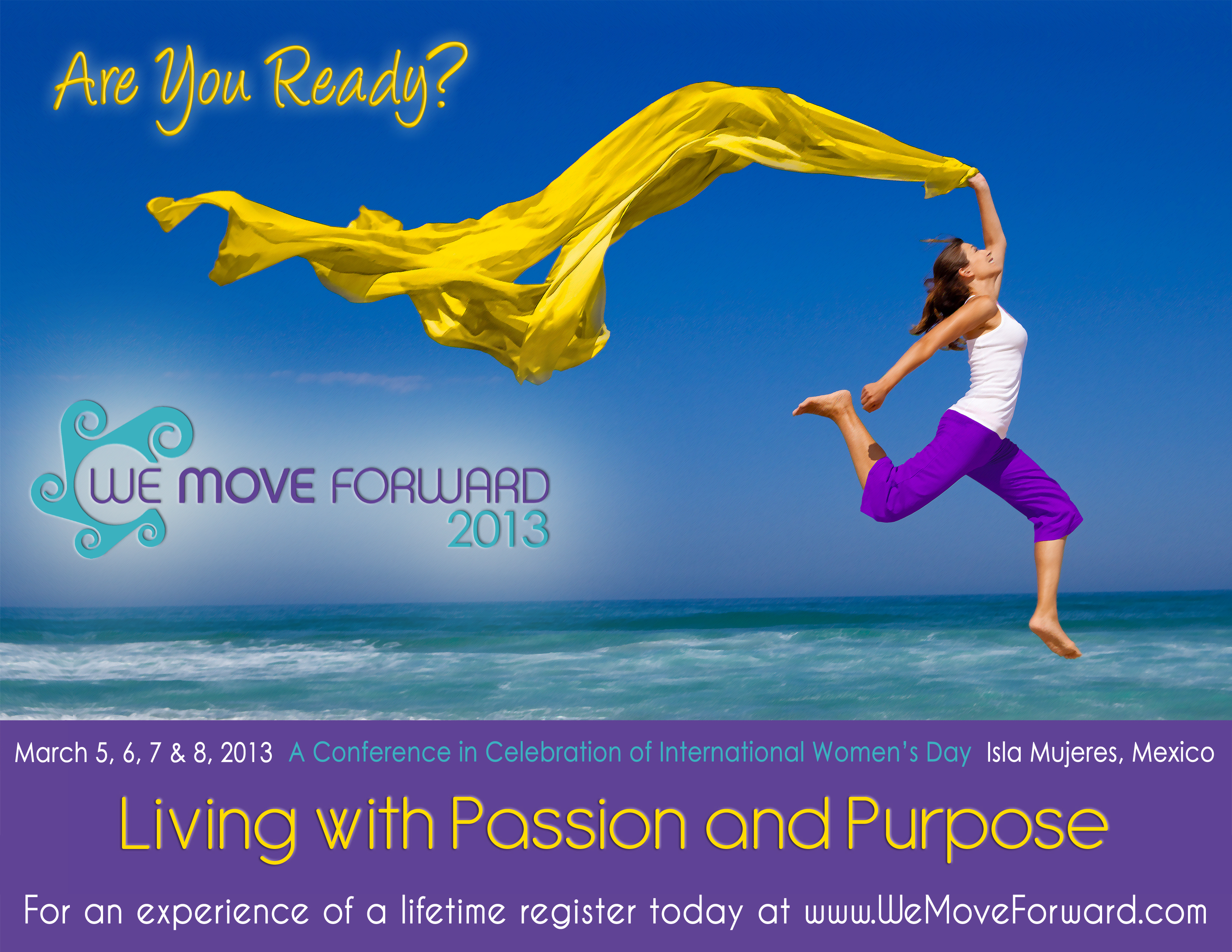 We Move Forward takes place on Mexico's Isla Mujeres, or "Island of Women." Surrounded by the turquoise Caribbean Sea, 'Isla' is the ideal spot to celebrate International Women's Day. A short ferry ride from Cancun, Isla is the perfect escape – safe, accessible, affordable and exceptionally beautiful.

Over three days, you are immersed in experiences that encourage you to:

Become clear on your passion & desired future.
Chart your way forward.
Gain insight and self-assurance.
Enjoy all that Isla Mujeres has to offer.

We Move Forward moves beyond other conference experiences in many ways: featured speakers such as Monica Parker, Deborah Kimmet, Gina Roitman, Sandra Herrera, Paula Pyne and many other will participate in the full 3 days – not only do you get to hear them, you get to know them. We Move Forward believes all women have a remarkable story to share, and group workshops provide time for everyone's voice to be heard.

A variety of movement sessions, geared toward all fitness and age levels, will be woven throughout each day. Engaging and social activities will have you absorbing the magic of Isla in the company of new friends.

For every 10 women who register, one local woman is sponsored to attend We Move Forward 2013. Register now and make a difference in the life of another woman while investing in the wellness of your own. We look forward to seeing you March 5 – 8, 2013.

Prepare to have the experience of your life!

To know more about the movement visit the official web site: http://wemoveforward.com