Wine and Food Festival 2014
–
The third edition of the Cancun – Riviera Maya Wine and Food Festival 2014 is about to begin. Lovers of great cuisine and fine wines can enjoy this unique event from the 13th to 16th of March.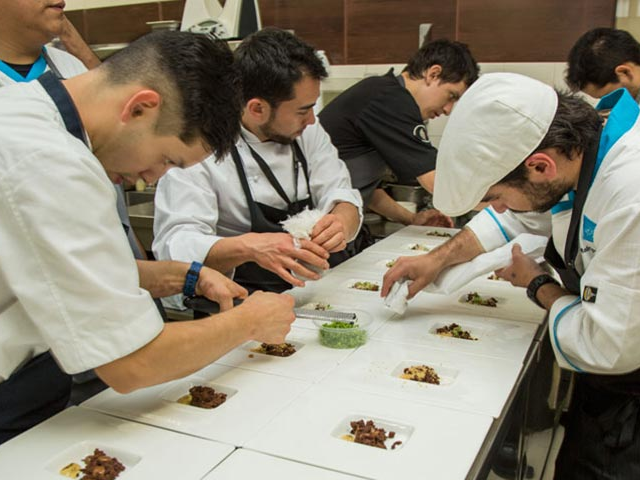 This year's theme is "Europe meets the Americas" and the festival will celebrate France and French chef Daniel Boulud – his unique style has made him a great exponent of French cuisine worldwide. Mexico will commemorate Chef Guillermo Gonzalez Beristáin, who is known for revolutionizing traditional and contemporary food in the north of the country.
During this important gastronomic event the restaurants of Five Diamond luxury resort Grand Velas Riviera Maya will be represented by chefs Mikel Alonso, Ricardo de la Vega, Karl Gulotta , Bruno Oteiza and Xavier Pérez Stone. The international presence at the Wine and Food Festival will also  enrich the experience for each attendee-chefs from Canada, the United States, the United Kingdom, Brazil, Chile, Columbia, Guatemala, Peru and Venezuela have all been confirmed.
Acclaimed sommeliers and winemakers will offer tastings of the best wines in Europe and the Americas, with a special mention of Mexican wines. Tastings of various liqueurs is also included in the program, among them the delicious mescal. Confirmed sommeliers include Veronique Rivest, Elyse Lambert and Juan Carlos Flores Magón.
Among the the Wine and Food Festival events are certain activities such as the Sunset Luxury Catamaran cruise; a passage on a beautiful catamaran including a meal on a private beach, fine wines and music to be enjoyed along with the Caribbean sun and sea.
If you appreciate the art of fine dining and enjoy sampling incredible wines, you can't miss this event in the Riviera Maya, featuring delicious dishes from the best restaurants in the country accompanied by over 55 brands wines from around the world.
photo credit: crmfest.com
¿Buscas la versión en español?