The Riviera Maya is a very popular for being a dream spot vacation. Plenty of white sand and beaches offers the opportunity to discover the ocean in many ways like diving, snorkeling, visiting the Mayan Ruins and traveling to another island. Apart from the endless opportunities there are 2 famous parks that any visitor should go to at least one. They are part of the culture of Mexico and before you choose one, I will tell you the difference of both.
Xel-ha and Xcaret may seem like the same thing because they are ecological parks and both offer quite the same things. Once you go you know they are not equal and that's why this article will help you choose the one fits better for you: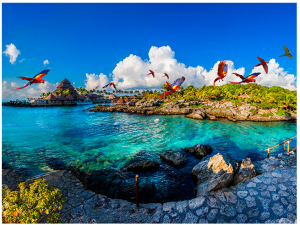 Imagine Xcaret as a huge park full of fun, entertainment and cultural activities. Xcaret is well explained to be as a giant playground for all ages. The amazing colors of the park, different cultural spots and food will keep you entertained all day.
Xcaret offers many activities with nature, animals and excitement. It has an aquarium with about 500 coral reef structures and 5000 marine animals, you can get close to some of them and take amazing photographs. The most popular are the sea turtles but right now most of them are taken to the sea when they grow. There are many other birds, you can see all their environments and habitats in the park.
If you like culture, Xcaret has many shows and sites to appreciate the mexican customs at the chapel of Guadalupe, Mayan village, watch the papantla flyers and the night cultural show.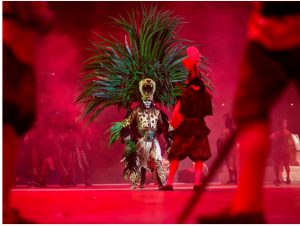 You can't scape from culture in this place, as you walk or eat the mexican food you're likely to encounter dancers and performances in every corner.
The underground rivers of Xcaret, the natural pools, lagoons are other great activities where you can snorkel and visit the tunnels with rock formations.
When getting your tickets to Xcaret remember to take the all inclusive package so you enjoy all the activities and take advantage of the buffet.
Xelha: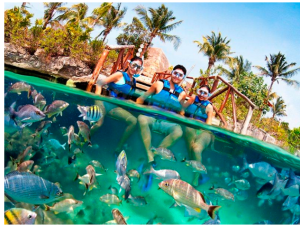 Xel-Ha is a park full of water in everywhere you look. This is just paradise to enjoy the mexican sky, sun, food and incredible activities. There is a big aquatic network of rivers, caves, grottos and part of the sea. Many species of fish can be seen when snorkeling. Also birds and different kinds of plants.
There are about 5 restaurants in Xelha for you to choose, they all offer a different type of cuisine. If you are relaxing during the day you can enjoy a tropical cocktail while getting a tan in a hammock.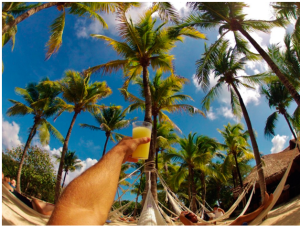 If you buy your ticket to Xel-ha, the package will include all your snorkel equipment, towels, lockers, life jackets, the entrance to the activities and buffets. Visitors are not available to go to the cenotes but you can take the xenotes tour for that.
So which one did you decide to choose?
Each one of this park offers a different atmosphere, depending on your interests both places are great to spend a good time!
You can save by booking your ticket online, most tours include transportation.