Sorry, there was a problem.
Twitter returned the following error message:
Sorry, that page does not exist
How to Take a Ferry from Riviera Maya to Isla Mujeres
Centuries ago, the ancient Maya traveled to Isla Mujeres to worship the goddess Ixchel. Today, you can hop on a ferry for a fantastic day trip to this serene and scenic island that offers snorkeling, sailing, shopping, dining, and more.
Take the Ferry to Isla Mujeres from the Riviera Maya
Situated just off the coast of Mexico, Isla Mujeres is a blissful paradise – a serene and sacred island where the ancient Maya once worshiped the goddess Ixchel. It's the perfect day trip from the Riviera Maya, and it's easy to reach by ferry. Two popular options include the ferry from Puerto Grande in Puerto Juarez, and the ferry from Punta Sam.
From Puerto Grande in Puerto Juarez Cancun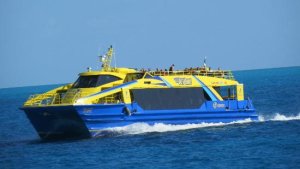 Ferry boats leave for Isla Mujeres seven days per week, every half-hour from 5:00 am to 8:30 pm and 10:30 pm to 11:30 pm. Boats return to Puerto Juarez every half-hour from 5:30 am to 9:00 pm and 10:00 pm to 11:00 pm.
On Saturdays and Sundays, there's an additional late-night crossing to Isla Mujeres at 12:30 am, which returns to the mainland at 1:00 am. Boats have bathrooms, TVs, and air conditioning, plus open tops for watching the scenery. Tickets cost $7-9.
From Punta Sam
The ferry to Isla Mujeres from Punta Sam is a much bigger boat that is capable of carrying cars, trucks, motorcycles, and bicycles. Boats leave Punta Sam on Monday through Saturday at 6:00 am, 8:00 am, 10:00 am, 12:00 pm, 2:00 pm, 4:15 pm, and 7:15 pm. Sunday sailings take place at 10:00 am, 2:00 pm, and 7:00 pm.
Returning from Isla Mujeres, boats leave Monday through Saturday at 7:15 am, 9:00 am, 11:00 am, 1:00 pm, 3:00 pm, 5:30 pm, and 8:15 pm. On Sunday return trips take place at 11:00 am, 3:00 pm, and 10:00 pm.