Chiles en Nogada in Playa del Carmen – Mexico on a Plate
Our national dish of Chiles en Nogada is literally Mexico on a plate. The sweet & savory Mexican flag of roasted poblano peppers stuffed with meat, fruit, & nuts, topped with walnut cream & pomegranate seeds is like nothing you've ever tasted.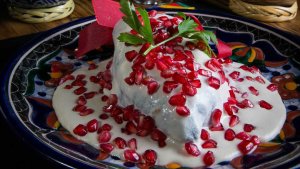 Mexico's National Dish – Chiles en Nogada in Playa del Carmen
A delectable celebration of our country's bounty, plated with the colors of the Mexican flag, there's no better time to indulge in our national dish than during the month-long party that is Mexico's Mes de la Patria (September). From festive households to the finest restaurants in Playa del Carmen, Chiles en Nogada delights palates in a mariachi dance of savory, sweet and spicy flavors so sublime you can taste the patriotic pride in every bite.
The Savory Flavor of Mes de la Patria
With Mexican Independence Day on September 16th and a host of lively Fiestas Patrias events leading up to it, it's no wonder the month has been declared a nonstop celebration of Mexico by presidential decree. As with all things Mexican, an integral part of these festivities is the food, with Chiles en Nogada at the heart of the table. So, what is it that makes the dish so special? The answer is, everything.
Mexican Culture & History on a Plate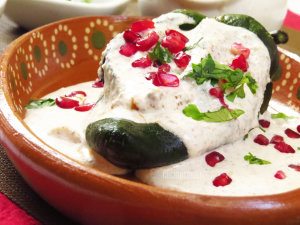 First prepared by Puebla nuns for General Agustin de Iturbide after he signed the 1821 treaty granting Mexico its independence, the history of Chiles en Nogada dates back to the birth of our country. In making it, the nuns stuffed roasted poblano peppers with pork, nuts, dried and fresh fruit. Embracing the season, they finished the dish with a rich sauce of walnuts and crema, topped with a sprinkle of pomegranate seeds. The result is a scrumptious depiction of the Mexican flag – green (the poblanos), white (walnut cream), and red (pomegranates).
Where to Find the Best in Playa
Served slightly differently everywhere you find it, Chiles en Nogada can be eaten hot, cold, or at room temperature. For a knockout cold version, head to Pik Nik Restaurant (10th Av & 24th St). Those seeking a hot iteration and cold beer to wash it down will love the special at La Perla Pixan Cuisine & Mezcal Store (5th Av & 34 St).