Riviera Maya has been placed in the list of most popular beach destinations in the world. Wonderful ancient ruins, beautiful natural parks, endless activities to cover and exquisite traditional cuisine make of this  place, a true journey that delight the most extravagant and demanding tastes. Talking about taste and flavors to keep a good taste of what is Riviera Maya at its best, we share the Top 10 drinks you should not forget to try on your next trip to the Riviera Maya:
1.Saka

Produced from corn, this drink is considered as sacred -as traditions pray for maize as a food for gods. The method of preparation starts with boiling the corn in lime water -until grains are half cooked, and then add a touch of sweet honey. Saka was used in ancient times as an offering to the gods of the mountain.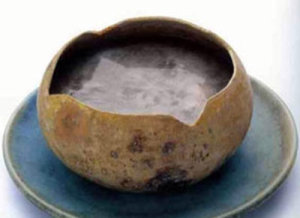 2. Xtabentun
This liquor of Mayan origin is extracted from the honey produced by bees who feed on the the nectar of the Xtabentún flower. The liquor is used in a number of regional cocktails, but can also be enjoyed on its own.
One cocktail that can be made with Xtabentún is the Mayan Margarita offered at Grand Velas Riviera Maya, owned by Eduardo Vela, President of the Administrative Board of Velas Resorts. It is prepared with tequila, Triple Sec or Cointreau, Xtabentún, lime juice and simple syrup.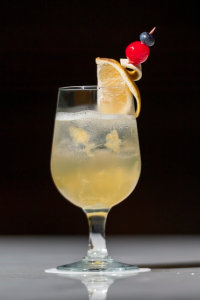 3. Balche

This sacred drink has a nectar texture made out of the bark and roots of Balché Tree mixed with water and syrup in a special container until fermentation. The milky appearance is soft to the taste and it is believed to grant magical powers to those who drink it.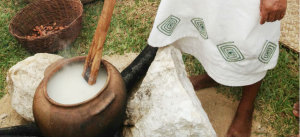 4.Mezcal
A famous Mexican saying prays: "For every ill, Mezcal, and for every good as well." There is a vast variety of this distilled drink; flavour and smoky notes would depend on the type of 'magey' -a species of agave- being used and the type of process to which the heart of the agave (piña) is submitted to. One of the most traditional presentations include a maguey worm inside the bottle, and it is served with 'sal de gusano', a mixture made of salt, chili and powdered worms. Don't let the image distract you! You have to try it.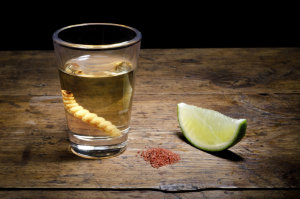 5. Tequila
A person who considers him/herself a Mexican, has tried tequila at least one time in their lives. Tequila takes a special place in many parties and gatherings in Mexico and tops the list of most consumed alcoholic beverages. The difference between mezcal and tequila is the type of agave used: blue agave is what makes a tequila become a Tequila, a Designation of Origin from the town holding the same name, located in Jalisco. You can find it around Mexico and Riviera Maya isn't the exception.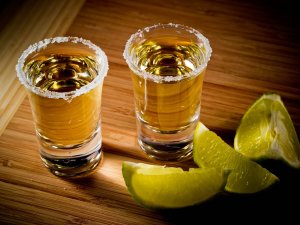 6. Cocktail Riviera Maya

A creation of experts in mixology designed to show the wonders of this destination. Ingredients are thought for giving a small taste of what Riviera Maya is like: vibrant colors, explosive flavors, live nature and handful sensations. Melon and strawberry spirits accompanied by orange juice and rum ma.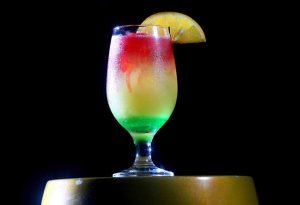 7. Agua de Coco
Coconut is one of the typical fruits of the tropics obtained from palm trees that line the beaches. Nowadays it is in fashion to drink coconut water and it is easy to know why. In a world where health and wellbeing is a high priority for most of us, the benefits of this refreshing drink are well praised by many. It helps the body to eliminate toxins, hydrates the body naturally, it has no additives included, it improves digestion, helps maintain a good health of the eyes and sight amongst others. If you sum up to this list the fact that it makes perfect match with alcoholic drinks such as vodka or rum, you have it!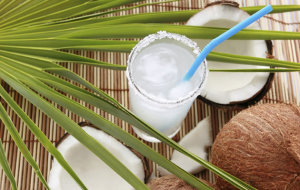 8. Horchata rice
In Mexico it is one of the most popular fresh waters present in parties and events. It is native from the state of Yucatan. Known as "the drink of kings", it is said to have helped keep Carlos IV freshen up. Preparation method is simple, rice , water, cinnamon , milk and sugar mixed.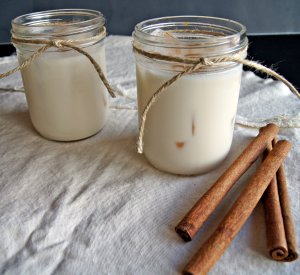 9. Agua de chaya
Chaya, a species used widely by the Mayan people to condiment their dishes, is still used on these days to continue the tradition. This plant has been proved to have a range of benefits for the body and for containing high contents of vitamins and minerals. Chaya is usually found in combination with other fruits such as lemon, lime, orange and cucumber.
10. Beverages made with cocoa
Another essential ingredient in Riviera Maya is cacao. Many beverages are prepared with it : Pozol or "Chucua", a thick drink of cacao and corn that is usually consumed hot.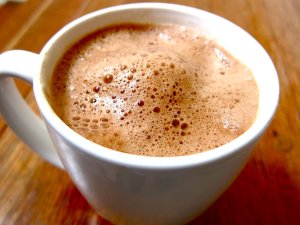 You think is enough? Xcaret thought it would be a nice tribute to this rich land blessed by nature, with a special menu of drinks of the house with their signature:
-Xcaret : vodka, melon liqueur and pineapple juice.
-Xel-Ha: lemon juice , natural syrup, gin, curacao liqueur and mineral water.
-Xplor: tequila, margarita mix and salsa chamoy (pickeled fruit paste of sweet and sour flavour with a touch of chili).
-Xichen: Xtabentún, eggnog and coffee liqueur.
-Natural wonder: vodka, curacao liqueur, basil leaves, lemon and natural syrup.
Now that you know the way to keep the hot weather away while in the Mayan Riviera, adventure yourself and enjoy!
Have any recipe inspired by legendary Mayan lands? Please share!